My favorite album of all time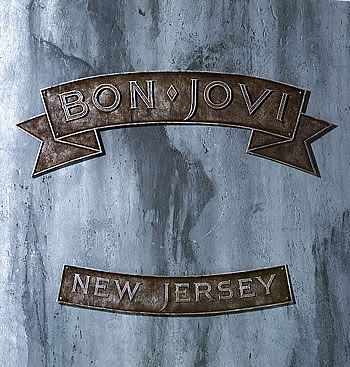 I thought it was about time I wrote a review of my favorite album EVER, "New Jersey" by Bon Jovi.
This album, released in 1988, went on to sell 7 million copies in the US alone. According to Wikipedia, "
New Jersey
holds the record for the rock album to spawn the most Top 10 singles, with five singles charting on the Top 10 of the US
Billboard Hot 100
Singles Chart. No other hard rock album has since equaled or broken this feat." Of course I had to include some chart trivia with my album review! Of those five Top 10 singles, 2 of them were #1 hits ("Bad Medicine" and "I'll Be There For You").
Interestingly, the band wanted to make this a double album. The record company wouldn't allow it. That means there are dozens of amazing songs that were recorded but never made the cut, including my personal favorites "Backdoor To Heaven", "Let's Make It Baby", and "Now and Forever." WHY did these not make it to the box set??!?!!?!
Tracklisting:
1. Lay Your Hands On Me
2. Bad Medicine
3. Born to Be My Baby
4. Living In Sin
5. Blood on Blood
6. Homebound Train
7. Wild Is The Wind
8. Ride Cowboy Ride
9. Stick To Your Guns
10. I'll Be There For You
11. 99 In The Shade
12. Love For Sale
"Lay Your Hands On Me" is a great way to start the album off. The song starts with an organ intro, the beat right before the vocals kick in was written to be accompanied live with fireworks exploding. It's a song about, quite obviously, sex and has proven to be a great live song for Bon Jovi. In the 80's Jon would run out through the audience on a catwalk to this song, most likely causing dozens of women to faint.
"Bad Medicine" is a personal favorite of mine, and the first of the two #1 hit songs on this record, which is interesting considering it's over 5 minutes long. Actually, most of the songs on this album are over 5 minutes long, but they never suffer for it.
"Born To Be My Baby" is a sweet song about two lovers who don't have enough money to pay their bills, but realize that all that matters is that they have each other. This song is still a staple of their live shows and is still played on the radio. It has a great energy to it.
"Living In Sin" is the first ballad of the CD, a slow, sexy, haunting song about a couple who live together and thus are considered "living in sin" by their parents since they are not married. 20 years later, this song seems almost quaint, as the phrase "living in sin" seems to have fallen out of the cultural lexicon. This song features some of Jon's best vocals. The video for this song was banned by MTV at the time.
"Blood on Blood" is a fan favorite and one of mine as well. This song has the ability to make me cry everytime at the part at the end. The song follows the story of three friends through their lives, who became "blood brothers" as teenagers and where they have ended up now. Gives me chills everytime. Just an incredible song.
"Homebound Train", I originally didn't like. I used to skip over it but it's grown on me. It's one of those on-the-road-and-heading-home songs; this has more of a bluesy old school feel than anything else on the record.
"Wild Is The Wind" is a beautiful song about a man who knows he can never give the woman he loves what she needs, so he decides to let her go. The music is similar to "Living In Sin", but this has a bit more bombast, a bit more 80's power ballad behind it.
"Ride Cowboy Ride" is meant as an intro to "Stick To Your Guns"...it was recorded in mono, not stereo, to give it that scratchy, old-time sound. Another cowboy metaphor song, but this one is so much more than that. "Stick To Your Guns" is one of my favorite Jovi songs of all time, out of the hundreds that I know.
"I'll Be There For You" is one of their most famous songs. It's illuminatingly beautiful, the lyrics are incredible, the guitar solo is great. This song is absolute perfection. Some fans complain that the vocals of this song have been taken over by Richie when played live in the past 4 or so years, but I love Richie's version of it, and I don't think Jon can hit those high notes anymore.
"99 In The Shade" is a fun, summer song about partying down the shore, taking your old man's convertible, and having your paycheck burn a hole in your pocket. I don't think they ever play this one anymore, as in a sense it's a little dated, but it holds up well.
The story behind "Love For Sale" is that Jon and Richie were drunk, fooling around in the studio and this is what they came up with. It's sort of a throwaway track but it's a fun acoustic style song and a good way to close off the album.
Overall, this album shows a lot of lyrical growth for the band. The songs increase in time significantly from the last album, which allows for more depth and musical growth as well. I think it's this album that made them able to record "Keep The Faith" in 1992.
"New Jersey" is incredible, start to finish. Period.
It is hard to believe I first listened to this album over 8 years ago, when I got it for Christmas in 2000. It was my first Bon Jovi album, not counting their greatest hits, and I have loved it ever since.
And my favorite demos:
"Now and Forever"
"Backdoor to Heaven"
"Let's Make It Baby"