Meat Loaf: Bat Out Of Hell (I - III)
I have to say that there is no other artist out there today who has consistently produced as amazing album covers as Meat Loaf, particularly the Bat into Hell Trilogy. I have to also say it makes me feel a little bit like a Lord of the Rings geek that I love these album covers so much, but there is no denying that they are really magnificent.
The covers are epic, they are tortured. They depict a moment at the end of the world, through the ashes of what has come before. They depict moments that are all-or-nothing, now-or-never, kill-or-be-killed. Just looking at them inspires me as a writer.
The first Bat out of Hell was released in 1977 and has gone on to sell approximately 43 million copies, including 200,000 per year to this day. It is just a classic album that really spans the generations, in my opinion. Plus songs like "Paradise by the Dashboard Light" and "You Took The Words Right Out Of My Mouth" are still played constantly on classic rock stations. This album cover was illustrated by Richard Corben.
Again, Bat out of Hell II (released in 1993) was a wildly successful album which sold 14 million copies and won Meat Loaf a Grammy for probably the best song of his career "I Would Do Anything For Love (But I Won't Do That)". Michael Whelan was the artist for this cover.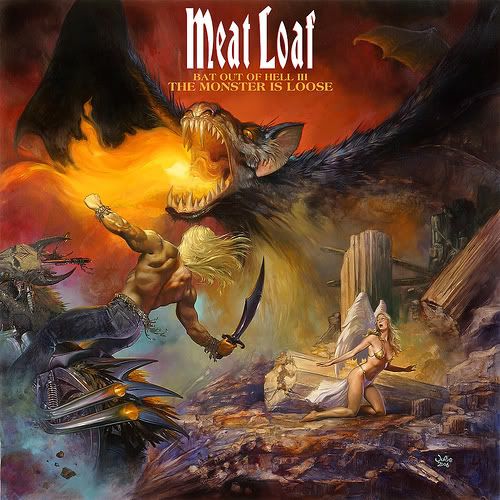 Julie Bell designed this album cover for the third installment of the Bat out of Hell trilogy, released in 2006. Interestingly, probably due to the changing radio station formatting and rise of illegal downloads, and just the collapse of the music industry in general, this album only sold 500,000 copies in the US, a far cry from the first two albums' sales. There was far more of a market for this type of unusual album in decades prior.
Yet this was the only album of the three not to feature Jim Steinman as producer of the album. Desmond Child (who has famously worked with Bon Jovi and many other successful groups) took over that role. However the album includes several previously written Jim Steinman songs.
Jim Steinman may be a little bit crazy, but he is also a genius. And his lyrics remain the most epic, most elaborate, and most over-the-top that I have ever enjoyed reading.
And behind these album covers is perhaps the perfect place to house his lyrics, coupled with Meat Loaf's always theatrical and dramatic voice and style of singing.
Best songs of the trilogy:
"I Would Do Anything For Love (But I Won't Do That)"
"Rock 'N Roll Dreams Come Through"
"Two Out Of Three Ain't Bad"
"Paradise by the Dashboard Light"
"You Took The Words Right Out Of My Mouth"